Product Description

Our New and Exclusive Limited Edition "Global Standard Regulation Championship Carrom Board" & Accessories are Manufactured to comply with both the Australian and International Carrom Federations Standard

Suitable for up to Four Players and all levels of International and Australian Championship play
LIMITED TIME *OFFER WITH THIS CHAMPIONSHIP PACKAGE INCLUDES ONE FREE OFFICIAL ACF POLO SHIRT WHILE STOCKS LAST! (Please Specify Size M, L or XL when ordering)
*PACKAGE OFFER INCLUDES - Instructions & Rules of Carrom Book, Championship Coin Set, Net Pocket Set, TWO Competition Surface Powders, TWO Championship Ball Strikers & Carrom Board Cover. * Limited Time Offer - Also includes a Regulation Standard Folding Metal Carrom Board Stand & Tournament Chess, Checkers, Chess Board Board Set & Carry Bag (*All Offers Not Transferable or Redeemable for Cash or any Price Discounts)
*All the internal four sides of the frame are factory lined with a "Laminated Strip" this results in the fastest & most rebounds of any other Carrom Boards available in Australia today. "No other Competition Carrom Boards in Australia has this manufactured design feature"
The Regulation Full Size competition fast playing surface measures 73.5 x 73.5cm (29.00" x 29.00") excluding frame, is hand selected from Premium Carrom Grade (ISO 9001-2008) veneered water/pest resistant plywood for durability. It has the centre eight point star design, polished off with several coats of a clear super satin varnish for a smooth finish. For support including stability the playing surface has a superior back bracing.
The Competition frame with "Internally Lined Laminate" is made from the very best hand selected Premium Carrom Grade kiln dried seasoned timbers measuring 7.6cm x 3.81cm (3" X 1.5"). The Frame is polished using several coats of clear semi-gloss polyurethane that shows off the beautiful natural wood grains. The Lamination of the Internal Four Sides of the Frames is done by very skilled craftsmen, and takes a lot of time to complete this process. The end result is that the Carrom Player gets Multiple Fast Rebounds. The Carrom Board measures 89cm x 89cm (35" x 35"), and comes complete with fitted net pockets. Gross Weight 15.5kgs.
Important Pockets Design Compliance, ensures that the Pockets of the Four Corners of the Carrom Board are rounded inwardly and NOT outwardly and are of regulation size compliant. The piece of plywood adjoining the corners of the frame has been cut off. The rounding off the pockets are competed by using the special semicircular cut outs in the corners of the frame. This Strict Compliance in Design has been approved by both the International and Australian Carrom Federations for all Competition Carrom Boards. Most Carrom Boards sold in Australia DO NOT Comply with this design to save on manufacturing costs.
The combination of the very best satin finished 8mm playing surface, large internally lined laminated hardwood timber frame, Competition striker and coins, our technologically advanced French Talc combination surface powder produces the fastest rebounds for the striker, multiple angles to pocket more coins in just one stroke. This results in a fast, exciting and challenging game. "This type of playing performance is not found on any other Carrom Boards sold in Australia today"
The Ultimate Regulation & Approved Carrom Board for that skillful "Break to Finish" play
*PACKAGE OFFER INCLUDES - Instructions & Rules of Carrom Book, Championship Coins Set, Net Pocket Set, TWO Competition Surface Powders, TWO Championship Ball Strikers & Carrom Board Cover. *Limited Time Offer - Also includes a Regulation Standard Folding Metal Carrom Board Stand & Tournament Chess & Checkers Set with Board and Carry Bag
As a "Special Limited Time Package Offer" with this New Release Championship Carrom Board, we are also including our "New Design Metal foldaway Carrom Board Stand". The Stand complies with International & Australian Carrom Federations Standard for use in all levels of competition and non competition play. The stand is finished in black powder coating, has height level adjusters and when Unfolded measures – 42cm x 42cm x H66cm.
When purchasing a Genuine Compliant Carrom Board look for the Australian Carrom Federation Logo on the Frame
Our Championship Carrom Boards are not sold in any other stores throughout Australia and New Zealand
--------------------------------------------------------------------------------------------------------------------------------------------------
HIGHLY RECOMMENDED PRODUCT
Our technologically advanced French Talc powder combination, is used by professional Carrom players all over the world who demand the very best. It acts like a lubricant on the playing surface and is used for easy rapid sliding of the Striker and Carrom Coins, producing a fast playing surface and multiple re-bounds. It contains a special mixture so it is not harsh, does not cause scratching and reduces wear of the playing surface.
For a Limited Period we we have for Sale this "Special Pack of THREE Carrom Board Surface Powder" plastic bottles, each containing 80g of Powder (Total Net Wt: 240g). (CARROM ACCESSORIES)
There are no additional freight charges when ordered with your New Carrom Board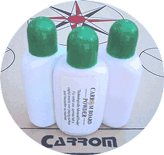 Product Videos
Custom Field
Product Reviews
Carrom Board CHAMPIONSHIP, Stand, ACF SHIRT & BONUS FREE OFFERS

Excellent service. Product was delivered promptly in good order, meeting all expectations.

Championship Carrom Board and Stand

After 3 months, I think this is the best time to write a review. Thanks Tony for giving me all the info needed when I selecting the board. Board is perfect and nicely designed as per international standard. You will get value for money. Do not use the powder supplied with the board. You can not control your shots and it won't give you the satisfaction you looking for. Buy Potato starch powder as it is difficult to find boric powder in Australia. It is very cheap as well. Enjoy!!

Feedback Championship Carrom Board & Stand

I've received my board today and I'm impressed with the build quality overall.

The Quality and Service is Exceptional

The website was easy to maneuverer and I was able to place my orders swiftly. My order was accepted and delivered promptly in the time that was advised. I found your customer service of a high standard. Any queries were dealt with in a timely manner. The Championship Board & Regulation Stand Package is amazing. Quite a bit faster to play on than the Classic as we have improved our skills. Its beautifully crafted and very aesthetically beautiful. Could be left out, if we had the space, as a conversation piece. We plan to use the both our boards on Australia Day and have some fun with our family and friends. I would gladly recommend Carrom Australia to my friends. Thank you, we are very pleased with our purchase. Olivine

Everything I was hoping for and more. Fantastic product and well worth the cost.

Thanks Tony. Got the Tournament Carrom Board delivered today. Very happy with it! :-) Think the stand was posted separately, so may be it will arrive tomorrow. Cheers Aleem